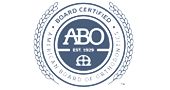 I think orthodontics is the best profession in the world. As a specialist in orthodontics, I love witnessing the physical and mental transformation that patients experience by going through orthodontic treatment. It always amazes me to see how straight teeth can change a person's outlook on life, and it is truly a privilege to be a part of that process.
Orthodontics is a unique dental specialty because patients come to us voluntarily, seeking our help to improve themselves. To me, this process is more than just putting braces on and then taking them back off. It is about understanding patients' individual needs, addressing their concerns, and providing them with the most suitable orthodontic treatment at the most appropriate time. No patient enjoys every minute of the braces process, but the results are ALWAYS worth it.
It is rewarding, both personally and professionally, to see all of my patients, regardless of age, gain confidence and self-esteem as their dream of a beautiful smile becomes a reality.
My Background
I actually wasn't sure I wanted to be a dentist until I interned for Dr. Taylor in this very same office while I was in college at Baylor! At the time, my sister Melissa was in dental school and loving it. The only thing I knew about dentistry was my experience with orthodontics, because I had so much done myself. I sucked my thumb until the fourth grade and my front teeth stuck straight out. I had Phase I braces on my upper teeth, a palatal expander, headgear, a lip bumper, full braces as a teen, plus multiple retainers! I've done it all!
To help me get more experience prior to applying to dental school, Dr. Taylor took me on as a pre-healthcare college student doing odd jobs around the office. He always treated me like another daughter, and we stayed in touch while I was in Dallas for the seven years of dental school and orthodontic residency. When he suggested I move back to Waco to become his partner, it was a no-brainer! It was like coming back home.
Education and Certification
I grew up in Houston and earned a Bachelor of Arts from Baylor University. After college, I attended Texas A&M University Baylor College of Dentistry in Dallas, where I earned my Doctorate of Dental Surgery. I stayed at Texas A&M for my orthodontic residency, which is widely known as one of the top orthodontic programs in the country! During my 34 months there, I was involved in both research and teaching. I finished the program with my certificate in orthodontics and a Master of Science.
I am certified by the American Board of Orthodontics, the only orthodontic specialty board that is recognized by the American Dental Association and in affiliation with the American Association of Orthodontics. Surprisingly, only about one in three orthodontists choose to become board certified. I believe that board certification demonstrates my commitment to providing my patients with the highest level of orthodontic care.
I also participate in continuing education through the Spear Study Club and dental organizations, to stay up to date on the most relevant research and technology in orthodontics. I want to learn the newest research behind every technique we use, because I always want to provide the best possible care for my patients.
Professional Memberships
American Association of Orthodontists
College of Diplomates of the American Board of Orthodontics
Southwestern Society of Orthodontists
American Dental Association
Texas Dental Association
Texas Association of Orthodontists
Central Texas Dental Society
Omicron Kappa Upsilon (National Dental Honor Society)
Beyond the Office
My fiancé, Dr. Corbin Gatlin, is an oral and maxillofacial surgeon here in Waco. My grumpy old dog, Oliver, is my best friend and favorite roommate.
Outside of work, I can be found reading, taking spin and barre classes, and snuggling up with Oliver. Corbin and I love having movie marathons and discovering new restaurants in the area. I love to travel and have been to more than 20 countries with a goal of visiting all seven continents in my lifetime (so far I've hit four!). I am passionate about supporting our local community through the Junior League of Waco, and serve as an advisor for the Zeta Tau Alpha sorority on the Baylor campus.